I played at
Shadow Ridge Golf Course
in Palm Desert, Nick Faldo Design, last Saturday. A buddy of mine got a suite over there but unfortunately it was well under used since we all got there very late on Friday..around 1:00 a.m. I left the house once all the kids were put to sleep and thus my late arrival into the desert. Getting there that night was an adventure in itself and I had the luxury of stopping at a trucker's gas stop on the way there. When I pulled in I felt extremely out of place..but nature called. First time I've seen public showers in a restroom. I did my duty and left without incident.
It was unbeliveably cold that night and it was 33 deg. and dropping. When I met my buds we basically just watched some Golf Channel and everyone just crashed out.
The next morning was absolutely glorious but extremely COLD. I actually had to wear some layers and felt like I was going skiing. First time this year that I actually wore pants. When we got to Shadow Ridge you could just tell it was a nice place because they had their range balls set up in that PGA tour-esque pyramid.
Here are some photos I took: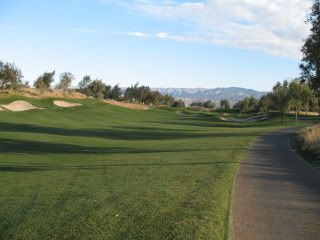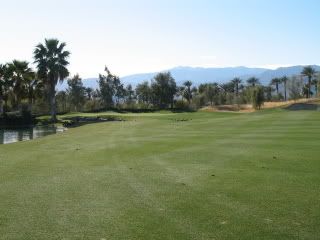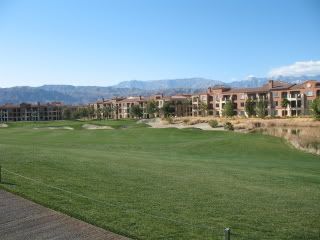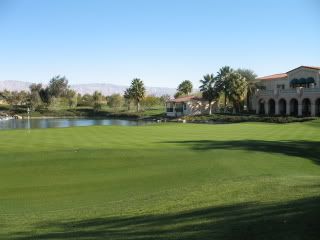 It was a well manicured course and was stunning to see the contrast in colors between the fairways and the high brush. There were a few holes where there was water to contend with but the real hazards the whole day, besides the cold weather, were the immense bunkers all around. The whole course was dotted with sand bunkers..I guess Nick must like these. I unfortunately had the pleasure of dealing with his deep bunkers and ended up hitting into them 4 times..on one hole.
and (a first!!) your's truly
(looks like the video embed is not working *sigh*)
One thing I appreciate about your better courses is that each hole is fun to play and not your "cookie cutter" layout. The par 3's at Shadow Ridge were monuments to be seen. Each hole left me looking at it for a while to enjoy how it was designed with it's beautful back drop. I look foward to playing Shadow Ridge again..when the weather gets warmer.